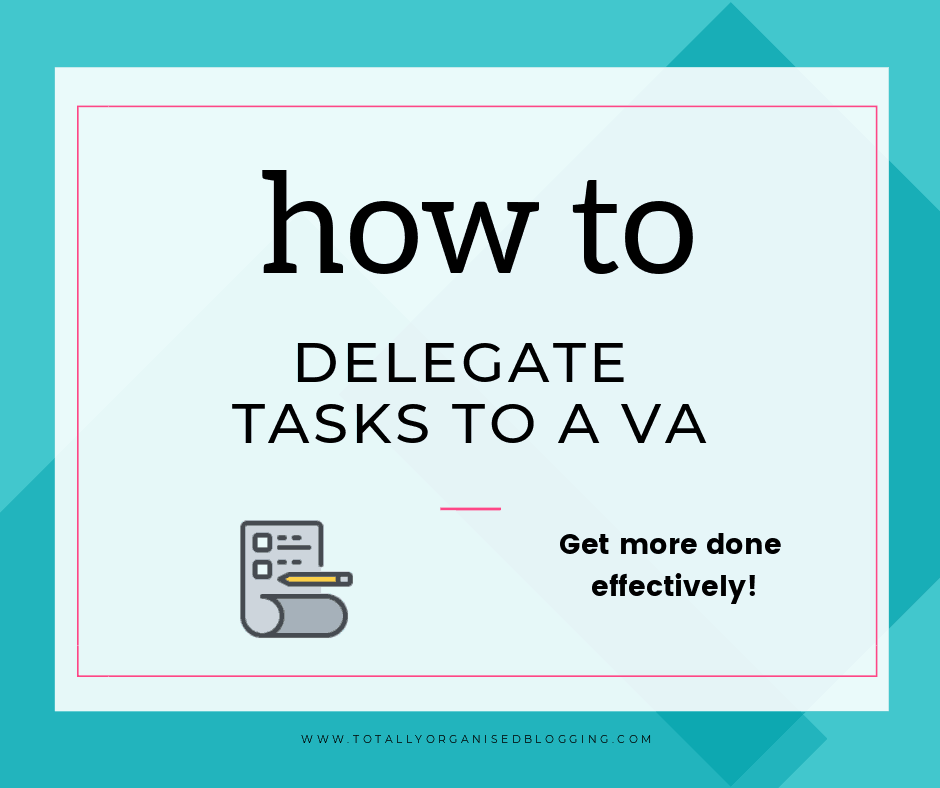 In my career as a professional project manager, I found myself starting a lot of sentences: "Would you be able to…no, don't worry, I'll do it."
Handing work off to someone else felt like it would take more time than simply getting on with it and doing it myself.
Alongside my work as a project manager I was also blogging. Both jobs seemed overwhelming. Then my blogging business got to breaking point and I needed help.
Enter my first VA.
And suddenly I needed to be a lot better at delegating.
In this article, I'll share my tried-and-tested tips for delegating tasks to a virtual assistant.
As a blogger or online content creator, I'm sure you do most of the work yourself. As our online businesses get bigger, we take on help, but when you are starting out, you are doing the work as well as managing the work.
Delegate tasks helps stop you from becoming a bottleneck trying to do everything. Delegation helps you get more done, helps your VA progress through learning new things and it spreads the load between your small team.
Over the years I've learned from my mistakes, so here's my primer on how to delegate tasks. You can use these tips to help you delegate any kind of tasks to your virtual assistant, but specifically I'm thinking about project work.
Delegating on projects vs delegating routine work
As bloggers, we have a lot of routine work to get through. From creating blog posts (or podcasts/videos, if that's your thing), to writing emails, from social media posts to doing the accounts – there is a lot of regular, repeating tasks.
We call these the operational tasks. They aren't one-off. They don't directly link to specific projects.
Project work is different. Projects are collections of tasks that help you achieve a one-off goal, like writing an ebook or launching a course. The way you delegate is very similar to giving a VA routine tasks to do, but know that they might need more support because the work may be something they haven't done before.
OK, let's get into the tips!
Tip #1: Don't forget the detail
I've delegated work to someone and forgotten to tell them when it was due by. Consequently, it was late – at least late in my mind although I'm sure she thought she had delivered it as she had planned to.
When you give someone a project task to do make sure that they have all the information they need to actually get on and do it. That includes dates it is due, a clear definition of the task, any resources they need to get it done or names of people you expect them to talk to and any quality criteria or expectations you have such as delivering it as a spreadsheet not a Word document and so on.
Tip #2: Offer help where it's needed
I delegated a task once to someone and she said, "I've never done that before." My response was, "Well, you have to learn sometime," or some other flippant thing. I didn't actually offer any practical help about how to do it or how to find out how to do it. She did just fine, though, no thanks to me. I realised afterwards that I should have listened to what she was saying and acted accordingly.
When you have concerns that your VA doesn't have the skills to do a good job (or they tell you this outright) then make sure that you offer some help. It might take longer this time but next time they will be able to do it without you so it will save you time in the long run.
Tip #3: Don't micromanage
I tried hard to think of a time where I had micromanaged someone, but I couldn't. I'm quite a hands-off project manager (or so I like to think). I have been micromanaged though, and it isn't pleasant.
Once you've given the task to your VA, let them get on with it. Tell them how you expect to be kept informed, like through a report once a week, and keep your chasing to that unless you feel things are not progressing as you would like.
In my experience, people are far happier being left on their own to get on, especially VAs who are competent at managing their time and running their own business. Give them the freedom to do the tasks the way they want to (unless there is a specific reason to do them a different way).
Tip #4: Delegate the right things
As a project manager, you have to keep some responsibilities for yourself. You shouldn't expect someone else on the project team to do your job.
Delegating should be about making the best use of everyone's skills and experiences. There are plenty of good VAs with excellent Pinterest skills, for example. I don't want to do Pinterest, but also, it's not a good use of my time to do Pinterest because I truly don't understand Tailwind. And I can better serve our customers by doing something else with my time instead of learning!
Remember that with your project management hat on, you are in a leadership position. Delegate the right work so that you and your VA(s) can deliver the project successfully.
Tip #5: Delegate the routine tasks
Ah, we are going to touch on routine tasks!
One way to free up your time to spend on the more strategic elements of running your business, such as working on projects, is to delegate things that are routine.
When you have a clear process for a task (or can write one), delegating becomes much more possible. And it can be a useful way of upskilling your team members to complement any ongoing training.
So in summary, be clear, supportive, and don't micromanage. Delegate because it's the right thing to do, not because you are dumping tasks on someone else. And definitely delegate! Don't become a bottleneck on your project because you can't let things go.
This is an updated and edited version of an article that first appeared on the ESI blog in 2014.
Pin for later reading: