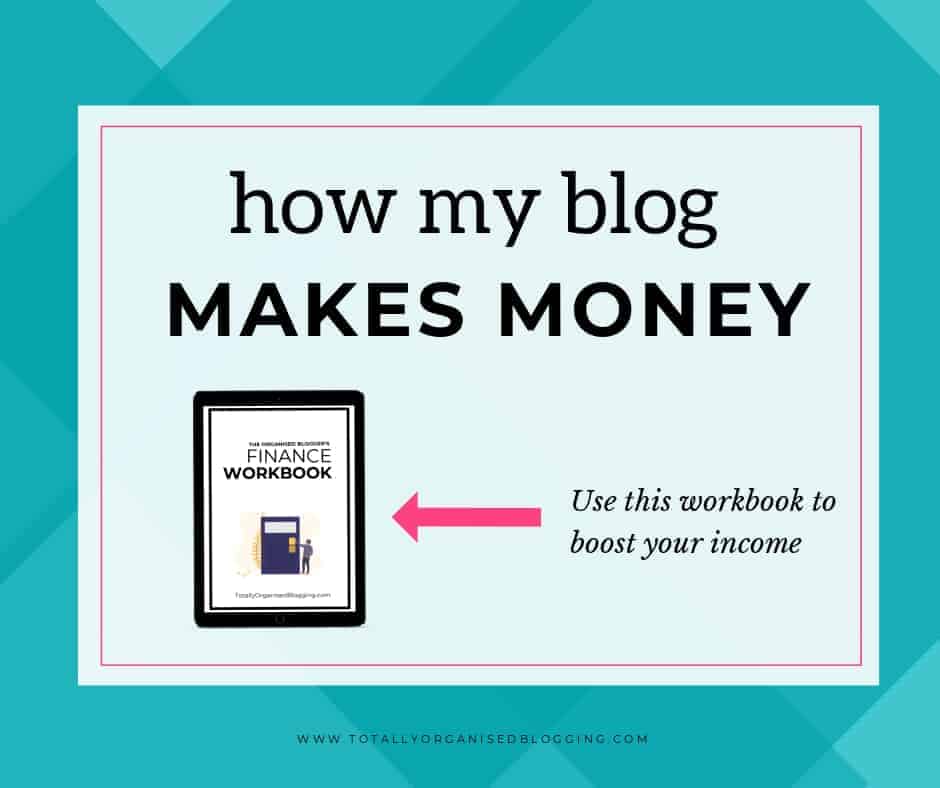 I asked my email list if they would be interested in hearing more about the revenue streams I use on my blog and how I plan to increase my income. The general response was 'yes please' so here we go!
I typed up the process I used to work all this out and made a workbook so you can do the same exercise on your blog. You can get the Blogger's Finance Workbook here and it will help you identify your income streams, outgoings, and ultimately a plan to hit your revenue goals.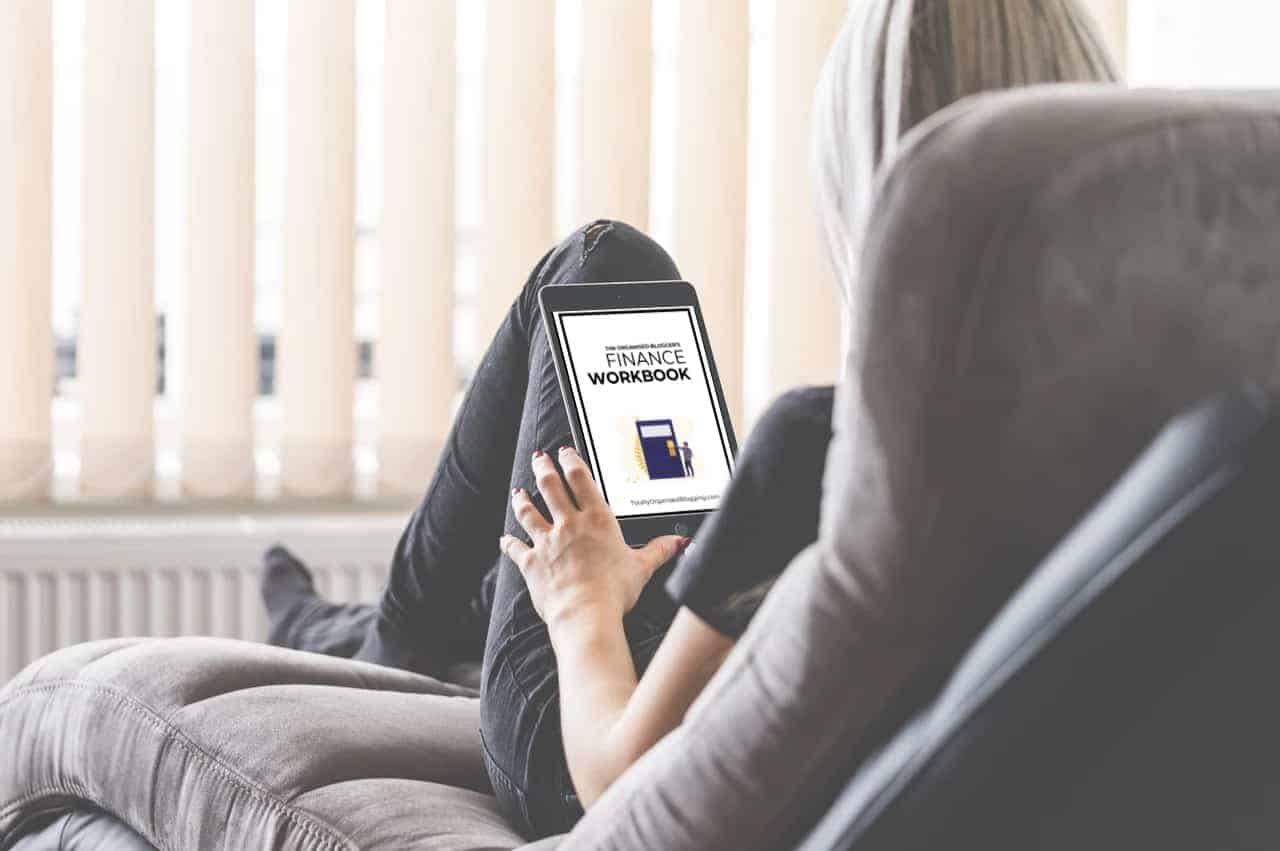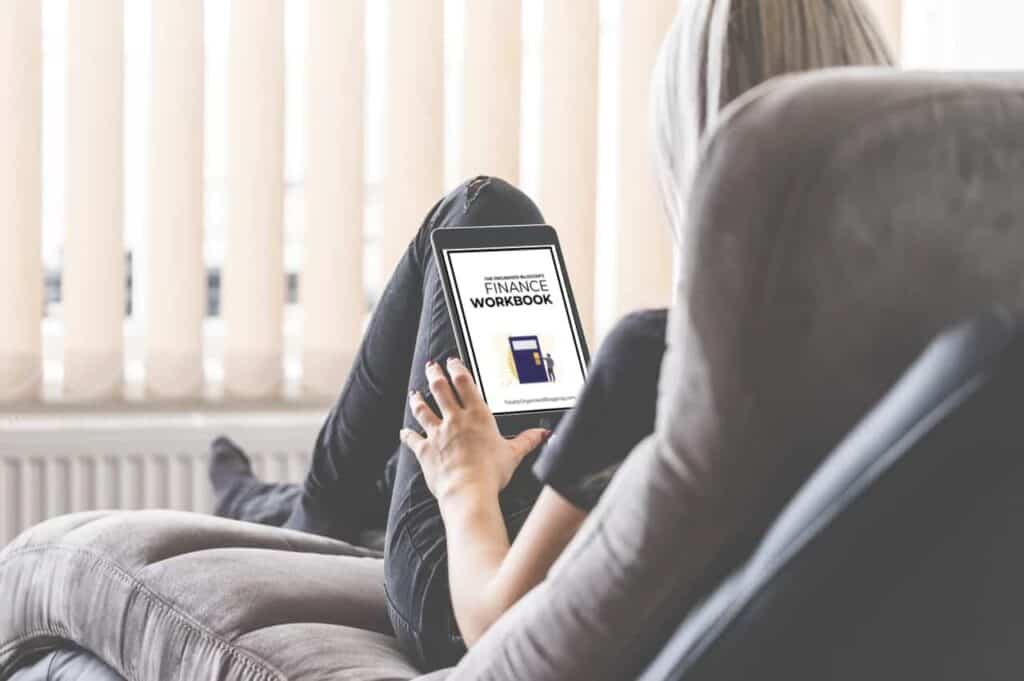 Income streams
TotallyOrganisedBlogging.com makes zero money. I do have a blogging course in content management – it's how many people found me in the first place. That course was included in the Genius Blogger's Toolkit, so there was a portion of affiliate income due to that sale way back when. I don't do a good job of promoting the course, so 'regular' income from it is is pretty much nil.
However, my main blog is GirlsGuideToPM.com and that's what I'm talking about in this email.
GirlsGuideToPM.com makes money through:
Product sales: ebooks, templates and a two self-paced online courses (off all these, templates sell the best and my tripwire is the most successful. Do you use a tripwire? Let me know if you want more details on setting one up.)
Membership site: this was a small experiment at the end of last year. I set up a membership site for 6 months; we finish in April. I quite enjoy it, and it brings in income each month. I think I will do this again.
Kindle sales: the amount I make via Amazon is pitiful, but it's regular income. It's about £5 a month.
Advertising: for a long time I ran direct ads. I would work with companies to put banner ads on my site and in emails. From January I started with Mediavine. To be honest, I don't like how ads look on my site and I have the settings turned down almost to the bottom level. But it's bringing in around $330 per month without any intervention from me. For reference, my site has around 60k page views. I said I would run Mediavine for 6 months and see if I got any complaints about ads. So far, only one, from someone I asked to do a review of my site. He said they looked spammy. I think they look like every other website filled with ads. Not beautiful, but it's a compromise I'm prepared to take and review in June.
Selling services: I do freelance writing for a number of sites. This is how I make most of my income.
Sponsored posts: income from these is unpredictable. I don't pitch or seek out opportunities but if they fall in my lap I'll do them.
Affiliate revenue: again, unpredictable, and not very much.
Here's the split. In the pie chart below, affiliate revenue and sponsored posts were excluded and Kindle sales were so small they didn't show up.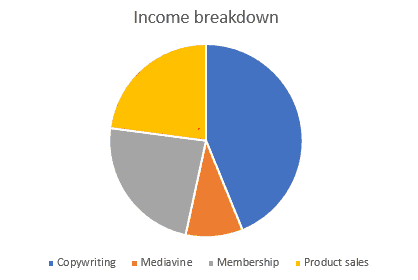 Outgoings include:
My VA and another not-virtual assistant (both part-time)
Web hosting and domain names
ConvertKit for emails
Tech support: I have a plan with Grayson Bell for small WordPress changes, he's great.
My pension. Got to plan ahead!
Accountancy fees both for FreeAgent accounting software and for an actual accountant to do my tax returns etc
Tax
Insurance
Bank and transaction fees – these are huge!
"Sundries" e.g. printing business cards, postage for sending Christmas cards to my membership group etc
So… when I add up the income and take away the expenses I'm left with around £260 per month. Gulp!
The blog pays for itself, and supports my future through the pension but it's not exactly creating a financial nest egg. If I want to draw a salary myself, which I currently don't do, I have to massively increase my profit.
Profit Increase Plan
There's not a huge amount of science to this. If you want to make more money you have to increase prices or sell more stuff. I don't want to increase prices particularly, so I'm going to see if I can sell more stuff.
My plan looks like this:
Shopify: Increase the number of products on sale. Improve the product pages of the products that are there to increase conversions. Promote products on Pinterest.
Sponsor outreach: Identify a few companies that might be good to partner with and pitch them.
Affiliate links: Update all my affiliate links as I know the blog has broken links on.
Advertising: My email onboarding sequence currently does not have ads in. I could add in affiliate product links to those emails where it's relevant and doesn't look like I'm selling to them before they even know who I am.
Save money: Cancel Picmonkey subscription. I love everything else. Actually I love Picmonkey too, but I don't need it. I don't know what else to cut, but I'll be looking.
As I only have a day per week to spend on my blog, plus little moments carved out in the evenings and weekends, I haven't worked up a full schedule of dates and tasks for this. But now at least I know what I am aiming to do, and I can use my time to support my objectives.
I know blogging isn't all about the money, and it's also around building a community, having new experiences and creating flexibility in your life so that you can do more of the stuff you love. But let's not be coy about it – we all need to pay the bills.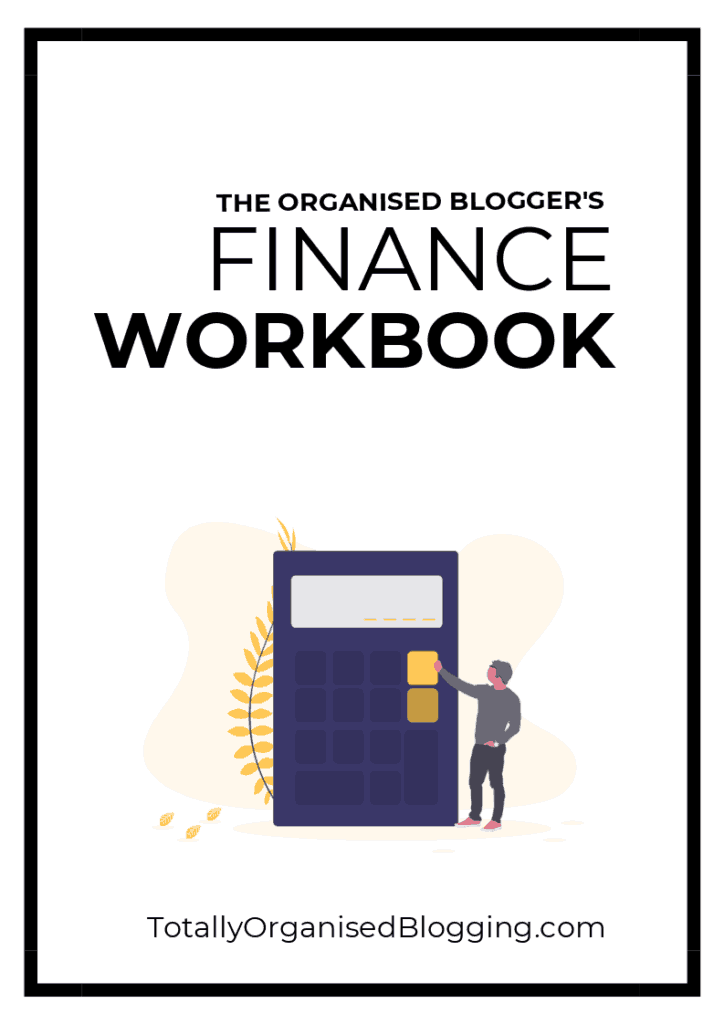 Pin it for later: