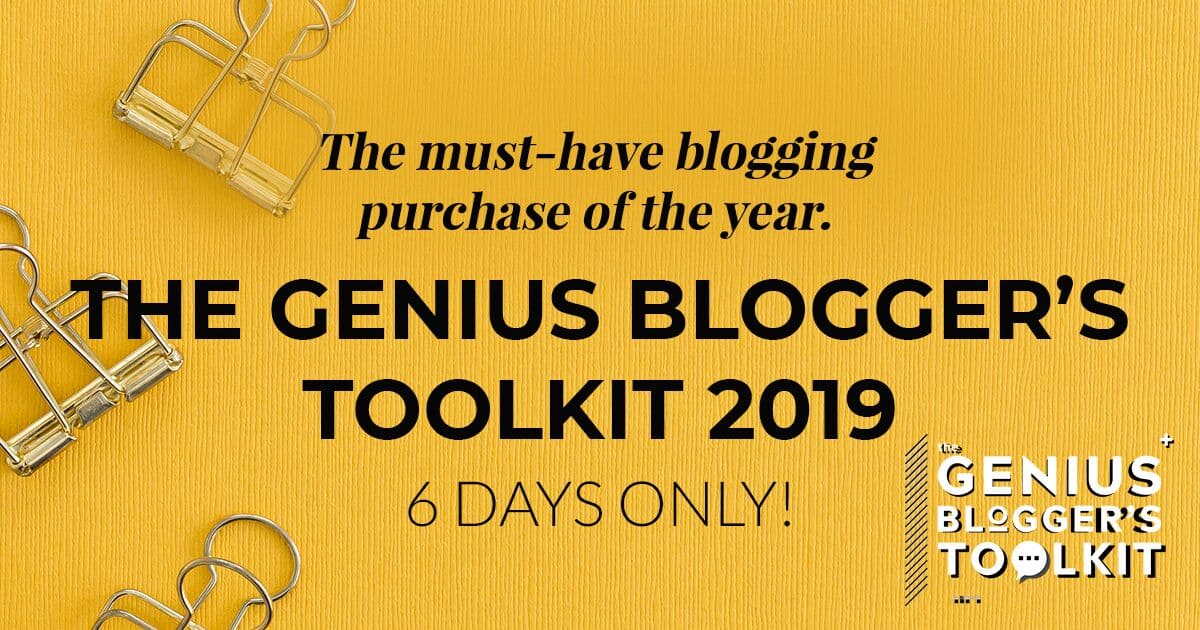 Yes, it's that time of year when the blogosphere is filled with people writing about and promoting GBTK!
GBTK is the Genius Blogger's Toolkit. I've had products in the toolkit in the past, and this year is no different.
I'm delighted that my Blogger's Finance Workshop short video course + workbook is in the bundle.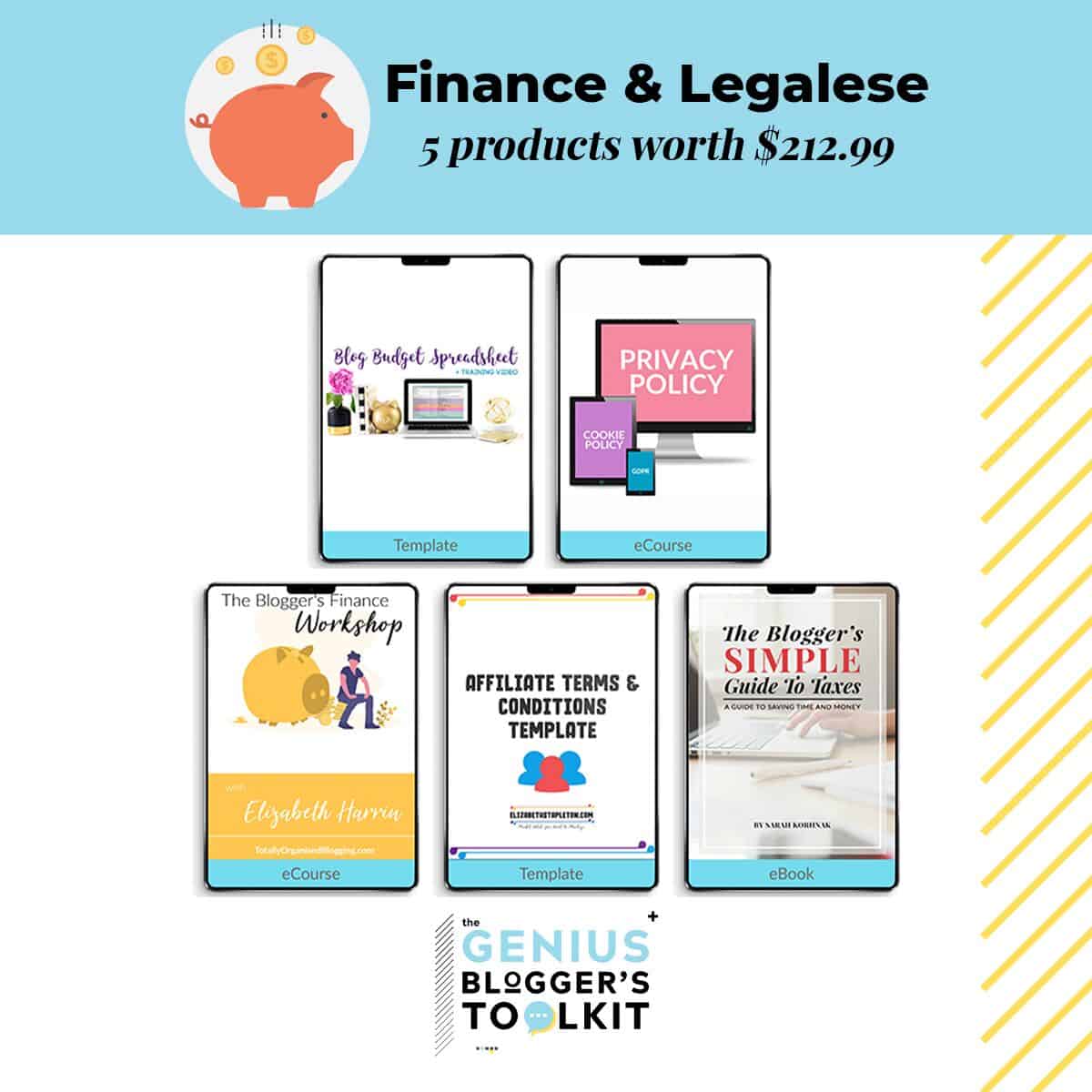 As a contributor it meant I got early access to see what's inside and that means I can now share my thoughts on the whole caboodle with you!
Genius Blogger's Toolkit 2019 Contents
There are 93 products in the bundle, plus some partner bonuses.
93??
Yes, it's too much. I love blog learning as much as the next person (probably more) but it's not feasible to digest that much content in one sitting, especially if you want to take action on what you've learned.
The good news is that you can filter how you view the contents so that you only see what is most relevant to where you are.
For me, that's podcasting at the moment. I'm still in the research phase but I'd love to launch a podcast in the next 6 months, and GBTK is a cheap way to get a lot of information in one go about a subject. I get to read different angles from different people and that helps me form my own plan and next steps.
I'll show you what you get when you log in a bit further down.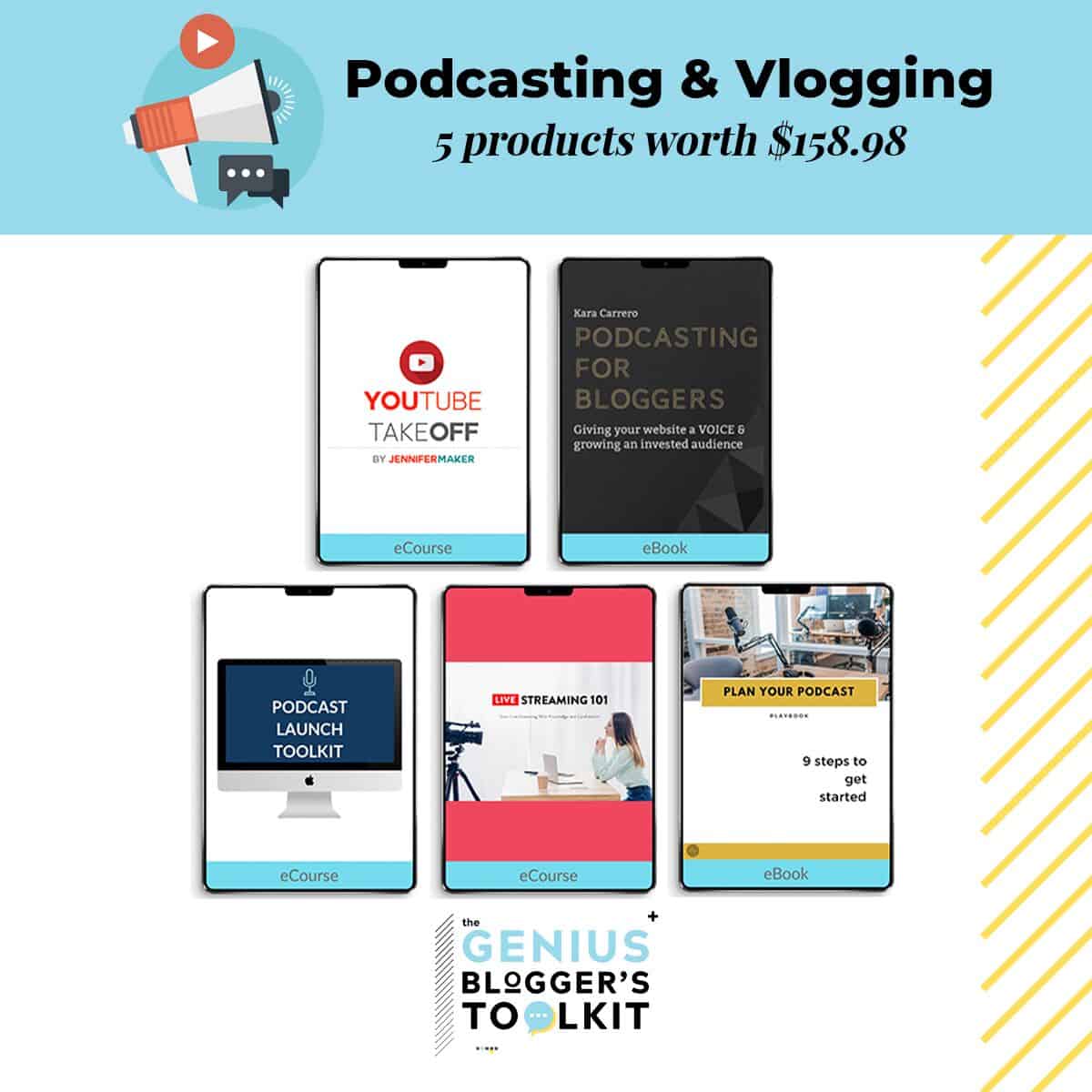 Genius Blogger's Toolkit 2019 Dates
You can grab the Genius Blogger's Toolkit between Wednesday October 2 at 8am ET to Monday October 7 at 11:59pm ET. It's only open for 6 days.
There is sometimes a flash sale in April the following year, so if you do miss the window this October, mark your calendar for alerts for the flash sale!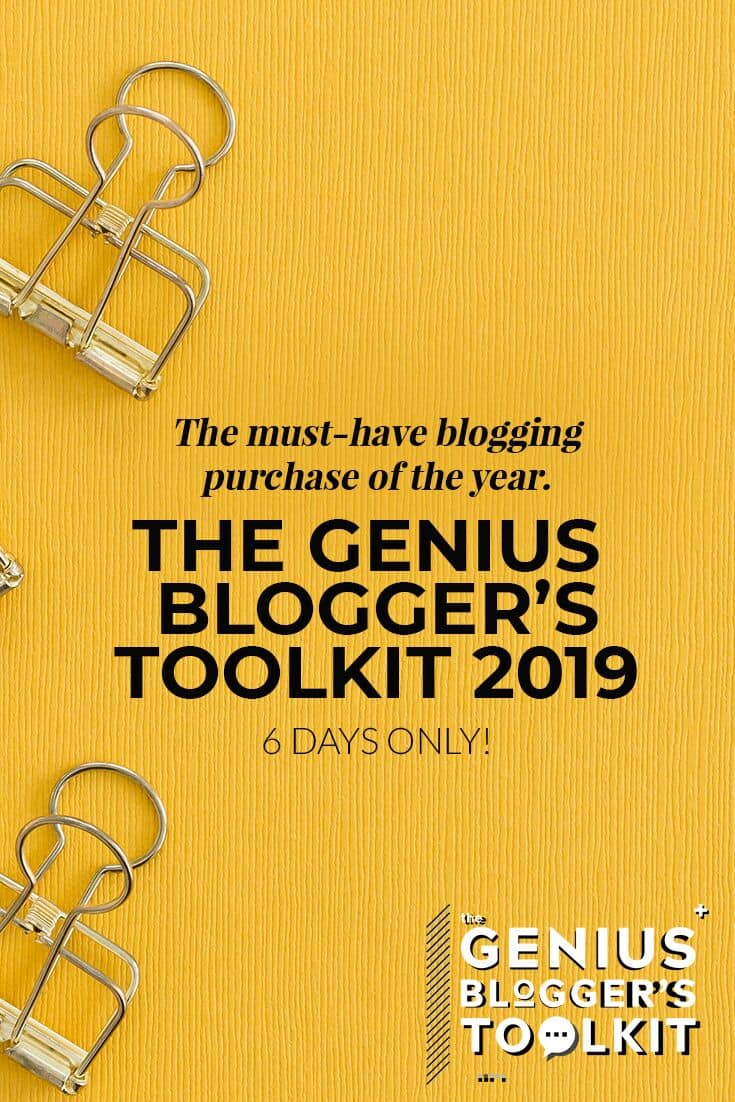 Should I buy the GBTK 2019?
Well, only you can answer that!
But I've been through the materials and I think this year the bundle is well suited to new and intermediate bloggers. There seems to be limited materials aimed at advanced bloggers this year.
There are a lot of courses and ebooks to help you manage more effectively and get processes in place, but if you are an ordinarily organised person you might not take loads of new tips from them.
What's inside the Genius Blogger's Toolkit?
If you've not bought the bundle before, you might feel a bit overwhelmed when you first log in.
You log in via the Ultimate Bundles website.
When you get inside, you see the welcome video, and your dashboard. From the dashboard you can either download everything (if you have a super internet connection and just want to get it all NOW) or filter by category and browse the resources you see.
The categories are:
Affiliate marketing
Beyond blogging
Branding
Building your blog
Content creation and promotion
Creating and selling products
Design
Email marketing
Facebook and Twitter
Finance and Legal (that's where you'll find my Workshop)
Getting started
Instagram (also a subject I want to learn more about, I'm not on Instagram yet!!)
Monetisation
Pinterest
Podcast and vlogging
Productivity and organisation
SEO and traffic
Tech and support.
When you log into the site it looks like the image below.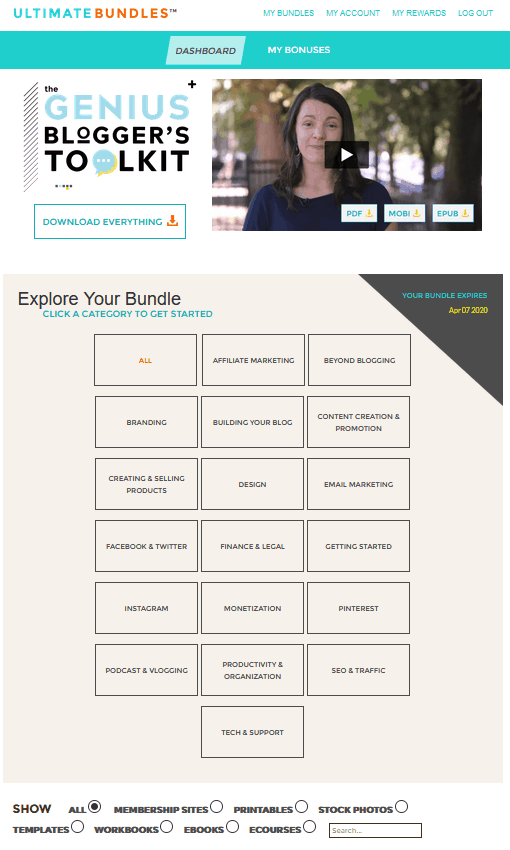 So you can see there is a mixture of templates, workbooks, ebooks, ecourses, printables and other things including short-term access to membership sites and stock photos to download (very handy).
What does the Genius Blogger's Toolkit 2019 cost?
It's $97.
You can also get some cheat sheets for $50 which summarise each resource as a bit of a quick start guide. I think that's a good idea and I got them on a different bundle, because it was too much to read through a whole ebook only to find out it wasn't what I was looking for.
So you might want to consider investing in those as well if your time is precious.
My top takeways about GBTK this year
I think GBTK is worth buying. I was surprised last year at how much value I got out of the resources. I was also surprised at how much I learned and then didn't do!
I'd estimate I did enough to earn back my $97 investment. And now I have the resources downloaded I can go through them again and again, so the things I haven't yet actioned can be added to my To Do list.
I'd recommend doing something similar. Start with a target of what you want to learn/improve. Find the resources that link to that. Make time to study and implement them. Then go back and see what else is in the bundle that you could use, even if at the time of purchase it wasn't what you thought you'd be buying it for.
Instagram, for me, for example, has become much more of a thing since launching this blog, and it's still not a platform I use well.
The other good thing about GBTK is that the resources are up to date. Going back to the Instagram courses and books from last year's bundle just wouldn't be as good as having this year's resources. The tools and tech changes. You need to keep up.
Grab your copy of the bundle here!